It's no secret that football in the south is near cult-like. SEC football is right around the corner! If you're looking to optimize your backyard space for the best tailgate party in town, Legacy Group of Winder, GA, can help get your outdoor living space in championship shape. Whether it is outdoor kitchens, water features, pools, or outdoor kitchens we are up for the challenge! If you're looking to make your house the place to be this season, here are some of our recommendations on the best additions to your backyard!
Fireplaces
Our team specializes in custom stone and brick working including fireplaces and fire pits that are the perfect accompaniment for Saturdays down south once that cold fall weather shows up late in the season.
Lighting
Our design/build team can also take car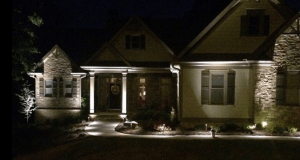 e of all your lighting needs to ensure you and your guests aren't sitting outside in the dark when your team goes into overtime long after the sun goes down. Unfortunately, we may not be able to install stadium caliber lighting in your backyard. We wish we could. That'd be awesome. Your neighbors probably wouldn't like it, but they'd all be over at in your awesome new backyard anyways.
Pools
Although football season goes well into the cold weather, it takes a while to get there. It can easily be close to 100* or more when the season kicks off. What better place to watch a game than the pool? Legacy Group, Inc. can custom design and build a pool to meet your personal needs and lifestyle!
If you want to start a new tradition this season by getting your backyard into game-ready condition, give Legacy Group GA a call at (678) 425-2298 today!