As the pollen counts rise and winter officially transitions into Spring, it's time to add color and beauty to your Georgia garden. Here are a few ways we love to show off the many faces of Spring: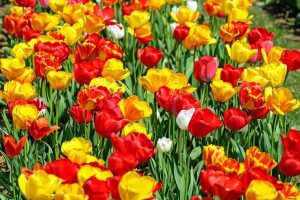 Tulips: Their vibrant colors last but a week and though fleeting they are worth the wait. Tulips come in an incredible variety of colors, height, and flower shapes. Some Tulips are even fragrant.
Creeping phlox: This low growing, clay-soil loving, variety of phlox is the first mass bloomer of spring. Mature plants are like magic carpets of color. Plant them in a sunny spot.
Bearded iris: Iris come in every color, and multi-color combinations. Their aroma is like a dip in a lilac pond.
Pulmonaria and Solomon's seal: This is a combination for anyone with dry shade that thought they could not have nice spring flowers. The Pulmonaria have striking foliage and mystical blue flowers in mid April. During this show your Solomon's seal (Polygonatum biflorum) will be starting to spring forth. By mid-May the Solomon's seal will flower and have blooms that look more like dancing bells floating below the leaves in a long string of subtle showiness.
Ajuga: This ground cover is showiest in the worst of soils and shady conditions. It thrives in a multitude of conditions and will even take on a bit of east or northeast sun.  A great ground cover for tough spots, in spring it magically explodes with bunches of 4-6 inch spikes of purplish-blue flowers.
American Dogwood: This tree is making a comeback after a severe infection linked to cool, wet spring and fall weather. Drought and winter injury weaken trees and increase disease severity. Make sure you put a slow water drip on these trees in dry summer weather. Refrain from watering in spring when possible. And replant these valuable trees, as many have been lost to this infection both in cultivation and throughout our local forests. There is nothing more breathtakingly stunning than a solitary, mature dogwood in full bloom. Amazing.
Need help adding a burst of color to your garden? We'd love to help you. Give us a call for a free consultation today.