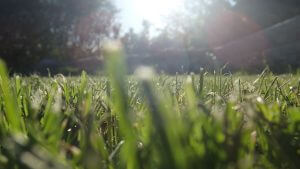 Summer is quickly approaching and Legacy Group wants to make sure your lawn looks perfect this summer. Below you'll find a brief overview of the do's and don'ts of lawn care.
DO:
Do Rake debris left on the lawn from winter.

– This lifts the grass, clearing it of any sun-blocking leaves preparing it to grow.

Do water your lawn.

– A common summer lawn care maintenance pitfall is inadequate watering. You may have been watering your lawn like normal during summers in the past, but was it enough? The evaporation that occurs because of the heat means less water is getting to your lawn roots. This summer, consider increasing the number of times you turn on the sprinklers during the week.   
Dress your lawn with compost.

– This adds fresh nutrients to your soil, improves the soil texture and may help fill low spots making your yard easier to mow.
DON'T:
Don't misapply fertilizer

– Although fertilizing your lawn is good for lawn care maintenance, misapply it, and things can get ugly. Go for a slow-release fertilizer with a lower nitrogen content to prevent damage and follow the directions carefully.  

Don't try to get rid of dandelions by poisoning them.

– You can kill the leaves of a dandelion, but not the roots. Digging them out is the only sure-fire way to eliminate them.

Don't use a poison.

– Very few poisons only kill the thing you're after and may cause additional problems by killing its enemies (good bugs) or weakening the plant.
For more information about our services at the Legacy Group, visit our services page or give us a call at (678) 425-2298. Are you already a Legacy Group customer? Rate and share your experiences with our staff in the review section of our Facebook page today. We always enjoy hearing from you!