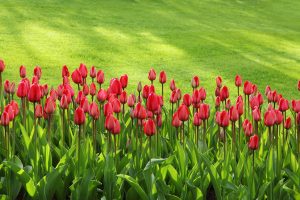 Spring is officially here and that means it's time for some gardening! At the Legacy Group, we love making sure your yard is healthy and living up to its full potential. This is why we're sharing 5 spring gardening tips with you. Check them out and then give us a call for all of your landscaping needs!
Clean out your garden.

remove all the debris (leaves, leftover snow, etc.) Get rid of weeds, making sure that you get the roots so they won't grow back.

Revitalize the soil.

Your soil is likely dried out and packed after winter, it's time to add moisture. Add organic material like compost or manure.

Trim old plants.

Plants that survived the winter will need to be pruned so they'll grow anew in the spring. Make sure to wait until mid-April or May in case there's an unexpected freeze.

Add Mulch.

One to three inches of mulch helps to prevent weeds and diseases. It also keeps the moisture in the garden and maintains the temperature.
These are just a few ways you can prepare your garden this spring. Once your spring garden is up and running again, it's time to look to the future and decide what to do with your garden next. Of course, it will need some care in order to stay colorful and beautiful throughout the season, so don't forget about them after your spring gardening.
For more information about our services at the Legacy Group, visit our services page or give us a call at (678) 425-2298. Are you already a Legacy Group customer? Rate and share your experiences with our staff in the review section of our Facebook page today. We always enjoy hearing from you!