Need some inspiration for your Christmas lights? Check out these outdoor Christmas light ideas: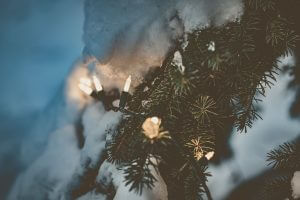 White Lights
Line your roof, windows and doors with white lights to give off a clean, crisp Christmas look.
Candy Cane Colors
Be inspired by your everyone's favorite holiday treat: the candy cane. Alternate red and white lights around the roof and windows.
Lanterns
Line your walkway with lanterns and you will be sure to make quite the first impression!
Falling Snowflakes
Hang snowflake lights from the trees in your yard and with a few suspended decorations, you will have a snow storm (the good kind, at least!)
Railing Decor
Adorn your railing with lights, garlands, ribbons to greet your guests and neighbors!
Over-Achiever
We've all heard the phrase "the more, the merrier", right? Well, that saying is reigns true with Christmas decorations. If you are going to go "all out", then we recommend committing wholeheartedly.
Over Sized Bulbs
The classic bulbs are a classic winner! These larger bulbs will be a showstopper. Larger bulbs look fantastic in large bushes in front of your home.
Movie Themes
If you are going to do a movie theme, then you must commit. There are some great movies that will be perfect as holiday decorations. The Grinch or Candyland, just to name a few.