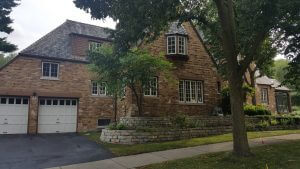 What is curb appeal?
Curb appeal is what potential customers see when the come to your business. It sets the tone for your business from the moment a potential customer sees your business, and let's face it, they're going to make an assumption about your business based on the outside. We all do it. No one wants to walk into in a business that looks run down on the outside. Here are three tricks that give your lawn curb appeal.
Visible signage

– One thing that can be often over-looked that can draw in many customers are signs. If people can not see your sign, how will they know you're there? Make sure your signs are large, easy to spot and read for potential customers.

Clean it up

– Wash the windows and clear sidewalks of any debris. Make a clear path for potential customers to enter your business. Consider hiring a professional lawn care service like

Legacy Group

to maintain the appearance of your lawn.

Add a few plants

– You'll never imagine how much of a difference a few pots of flowers can make to a lawn's appearance. If you do not have time to maintain the plants, call Legacy Group and we will do the work for you.
Following these three quick tips, you'll be able to add curb appeal to your business. Now, the level of curb appeal is up to you. Of course, we suggest the best. Our professional staff will maintain your lawn, so you won't have to.
For more information about our services at the Legacy Group, visit our services page or give us a call at (678) 425-2298. Are you already a Legacy Group customer? Rate and share your experiences with our staff in the review section of our Facebook page today. We always enjoy hearing from you!