Legacy Group designs and builds beautiful outdoor kitchens and living spaces in the Greater Atlanta area.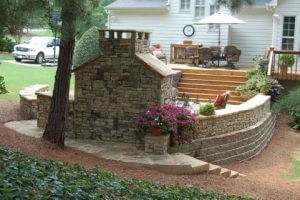 From outdoor kitchen and custom fire pits and fireplaces to covered patios and pergolas, we help you design the perfect space to fit your every need. With Legacy Group GA, the possibilities are endless and we specialize in making your outdoor living space a perfect addition to your home.
We match your style
Want a custom outdoor living space but worried it will look odd next to your current home or in your backyard? Think again! We will be sure to match the style and personality of your home — all while giving you exactly what you want.
We match your needs
We will meet your needs while maximizing your outdoor space. Whether this space will be for the family or strictly a "man-cave" for prime football watching, we will discuss your needs at hand and guarantee to meet those needs.
We create solutions
Not only will we create a space that you will love, but we will be sure to make this space feel like a true extension of your home (but on the outside). Your backyard can truly become an extension of your living space allowing people to gather and socialize.
With Legacy Group, there is no limit to our creativity for the design and finish of your fire pit, gathering space, covered patios or outdoor kitchen. Call us today and let's get planning your dream custom outdoor living space!